AUTOMATIC STEEL COIL PACKING SYSTEM MANUFACTURER
Fhope providing various coil packing line to join the slitting line to help the coil center automation the coil handling and packing. There are solution with coil down picker, upender, gantry crane, packing machine and stacking machinery... FHOPE offer coil rolled coil mill packing system too that help to make the master coil packing in flow line with higher efficiency. From FHOPe, the system offered is able help to reduce the man power to save the labor price throug the automation. Your invertment will be quick return in 2-3 years.
Advantages of Automatic Coil packing Line
One people for whole line opeariont with reliable operation. ï'·
Effective management in the coil handling,packaging, palletizing that exercises for various coil description
ï'·Iot sharing with MES or ERP system from packing to storage warehouse
ï'·Great packaging in coil surface, strapping and palletizing for coil protection in different inviromental.
ï'·Flexible funtions adopted for different packaging goal.
SOLUTION A: Slit Coil Handling and Stacking system

Protecting coil objects from damage during shipping takes a lot of work. We offer numerous packaging solutions for a broad spectrum of coil objects, which include automatic coil packaging systems as well as auxiliary machines such as weighing device, printer, automatic timber feeder... The machines handle the wrapping and securing of a product in just one step, which not only speeds up packing times but also reduces manpower.
SOLUTION B: Steel Coil Packing & Stacking Line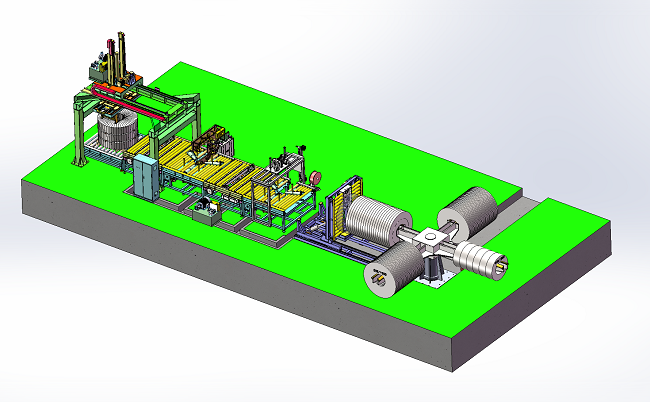 The concept of packing lines is integral to any coil wrpaping machine, coil strapping machinery and palletizer. The machine apply two layers of packing material covering all surfaces of the coil. This minimizes the amount of air in the package, which reduces the potential for corrosion or water spots to form. Additional materials such as protectors, guards, and wrap-around cases can also be added. These help keep both the coil and first layer of film intact while they are being transported. The ancillary packing material can either be applied automatically or manually.
SOLUTION 3: Cold Rolled Steel Coil Packing Line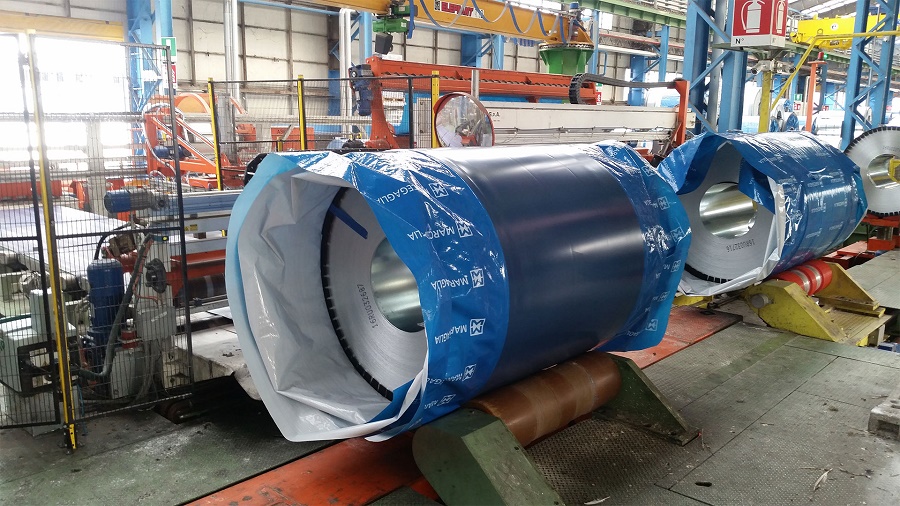 The equipment required to package the aluminum coils packing line determined by FHOPE. The equipment designed to handle, transport and process material from the slitter. Apply the necessary packaging materials and make ready final packages to be removed from the line by the BUYER. Below is general expectation of the line provision:
1. Entry coil receiving and separator retainment equipment from slitting line turnstile.
2. Entry coil receiving from coil storage bay.
3. Weigh scale with label applicator magazine and printer systems integration.
4. Coil ID and OD scanner (for input into coil wrapping system)
5. Installation of inner ID edge protector. (automation as option)
6. Installation of PET banding through ID (3 each). (automation as option)
7. Automated installation of PET banding around OD (≥4).
8. Automated installation of outer OD edge protection.
9. Automated through the eye wrapping of coils ( x3 wrap layers) with twin film wrapping shuttle to apply different film types simultaneously, with automatic film shuttle exchange unit, and film cutter clamp with heat seal. 10. Adjustable film pre-stretch capability up to 50%
11. Installation of plastic side wall protectors. (automation as option)
12. Installation of plastic outer wrap protector (full coverage or partial coverage). (automation as option)
13. Installation of PET bands through ID (x 2). (automation as option)
14. Pallet handling and placement/centering equipment. (automation as option)
15. Automatic coil loading on pallet.
16. Installation of PET bands around OD (≥4) (bands coil to pallet) (automation as option)
17. Installation of label (x2 - 1 End sidewall + 1 OD) (automation as option)
18. Exit Queue equipment ( up to 4 palletized coils) 19. Fully integrated Packaging Line Control System
20. Machine Platforms and Stairs
21. Machine Safety Guarding Package
22. Perimeter Guarding