Upender and Tilter
We can manufacture various material turning solutions for various industries, including pallet turning machines, mechanical turning machines, hydraulic turning machines and so on. This tilting machine is sold in more than 35 countries. Fengding Machinery can confidently specify that it has a wider range of load tilting technology, which is different from any other supplier in the world, and sells more machines each year. And pallet flippers can be used in many applications. Please contact us for more information on flip machines, custom flip systems!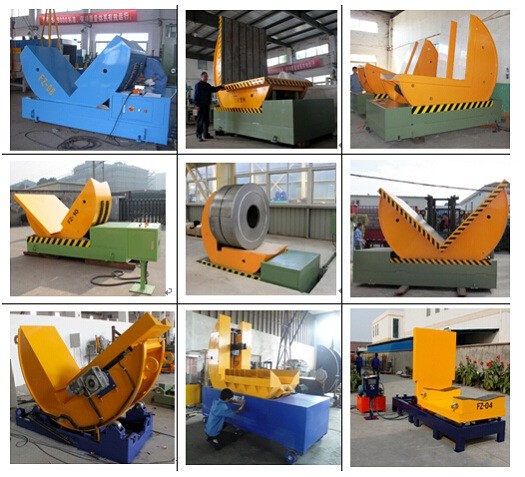 Application:

1, steel coil industry 2. Wire industry 3, aluminum coil industry 4. Copper foil industry 5. Mould industry 6, wheel slide valve
The turnover machine realizes continuous and safe operation of different operation requirements. It helps to correctly handle heavy loads and avoid improper damage or damage. Hoists and rollovers are not subject to loading and unloading, regardless of the working environment. With 20 years of design and manufacturing experience, Fhope's reliable and powerful machines can help you get error free load, energy efficiency, and advanced security in continuous operation.
Features
Saftey: it is help peopele to handling the heavy objects, the operator is alway from the machine in safety area.

Efficiency: Compare to handlign by carme of forkman, the load position changing takes 10-60sec only.

Easy maintainment: The strong structure, durable motor, and fool style operation that makes non skilled operation is able to maintain the machine.

Customzied solution: The upender and tilter provided always designed base on customer's specification and requirement to meet the goal 100%.

Videos